Angor Temples and Siem Reap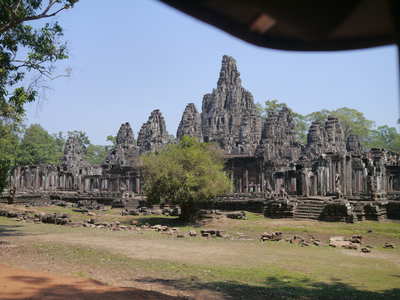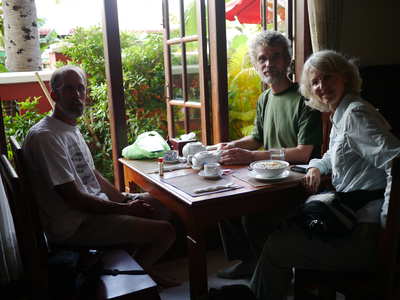 I'm sure that most people who visit Cambodia would be most impressed by the Angkor Temples, truly one of the wonders of the world. Well, we were impressed, but if you've gone through all the pages of this thing you probably realize by now that some of the other stuff was really more important to us. I want to conclude with this miscellaneous page on the hotel, the food, and yes, the temples. If you drive around the area in your Tuk Tuk you can see sights like the one at left, large stone structures many hundreds of years old. It's pretty well documented on the Internet, and we'll get back there in a little while.
First I'd like to talk a little bit about our hotel, which was called Shadow of Angkor II, as distinguished from the original #1. In the picture at right, we're at breakfast there. We had a nice air-conditioned room, with wireless internet, TV (and even some English channels), modern bathroom, a balcony and comfortable bed. We had a few breakfasts and had several loads of laundry done on top of our five nights lodging. How much was everything? $150. It's a little cheaper there than here!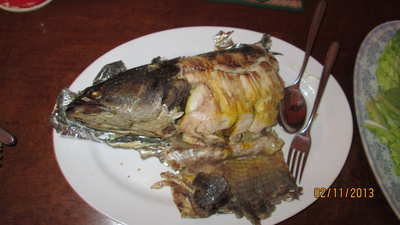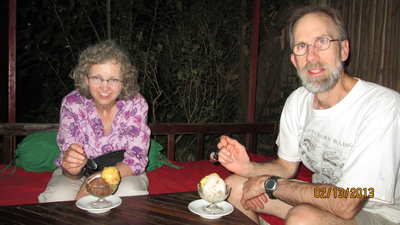 How was the food? One day the four of us went over to the Shadow I restaurant and sat down to eat, a little on the late side. To my left I noticed a very fancy tablecloth and some settings being set up on a fairly long table. This proved to be the owners's luncheon, and when he spotted Kevin, he insisted that we join him for lunch. A couple of other NGO people who were staying at the hotel and who knew Kevin also were there. The lunch was free, and we got a chance to eat snakehead again, and also get a better photo of one, as shown at left! For some of the food which was a little hard to identify, we followed the rule of asking no questions. I did like the snakehead, but Laura was getting close to the point of ordering steak or pizza!
A couple of days later we celebrated my birthday with ice cream at the Butterflies Garden Restaurant next door to Shadow II. I was so excited to reach this milestone that I went to Cambodia so I could experience it 12 hours earlier! This was a pretty good restaurant; we went there for dinner and a traditional music and dance show the day before.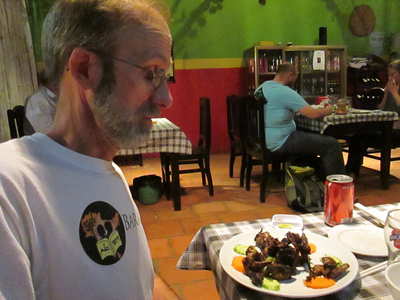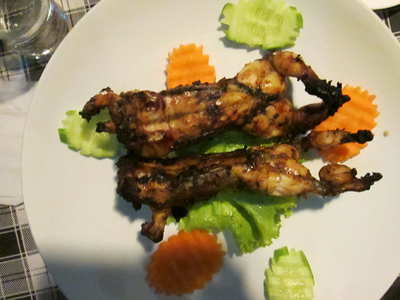 We did participate in one very memorable dinner at the Mr. Grill Restaurant. About 10 NGO people in Siem Reap that Kevin knew got together to socialize and talk about their work, their journey, and the future of Cambodia. They were American, Canadian, European, and Japanese, mostly couples, including one kid. We had a nice big portable beer tap which we could use to refill our glass at any time, a lot of good food (I had the steak), and a small total bill, around $60 as I recall. The whole tropical scene reminded me of the movie Casablanca; I felt somehow transported back to the colonial era.
We went back to Mr. Grill later, and decided to try something a little riskier from the menu. I forget exactly what I ordered; I'm giving it a skeptical stare at left, but it was pretty good. I know that Kevin ordered the frog, and that's exactly what he got, at right. It was a little lacking in meat, I think he said!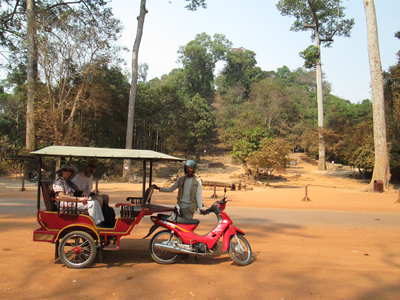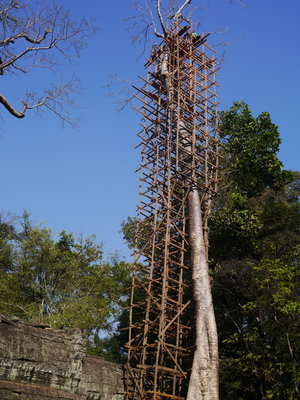 The last two and a half days in Siem Reap we headed out to the Angkor Temples in our tuk tuk. One day we saw some tree work Cambodian style, as shown in the picture at right. Be sure to click on the picture to see a larger, zoomed look at the scaffolding. I guess a crane would be faster but much more expensive!
The temples themselves are great to see. They go back close to 1000 years, but you can find plenty on them on the Internet and we don't really have better pictures than anyone else. If you get to Siem Reap, don't miss seeing them. But on the theory that a video is worth 1000 pictures, the two-minute video below gives an idea of how it looks to walk around the Angkor Temples. It varies from beautiful stone buildings to rubble, essentially. There are some guys cleaning off the roof, cranes moving a few blocks around to reconstruct things, etc. (Thanks to musopen.org for the background music.)
---
Page last updated December 25, 2013
---
Related links: Traveling to Asia / Jet Lag - Prince Sihanouk - The Khmer Rouge Era - Ecotour of the Floating Villages - Water for Cambodia - Angkor Temples and Siem Reap