Christmas 1998
Dear Friends,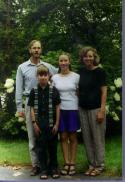 A belated Merry Christmas and Happy New Year from all of us. This year we are continuing the Christmas web page tradition, but switching authors from Laura to Tim. This page is a photographic annotation of the email (or regular post) that you may have received. We are a little late for Christmas, but not as late as in some years! (No, we're not just waiting to see who sends us their letter to prune our list; with email we can send to pretty much everyone. You can delete us a lot easier, too!)
We didn't do too much photographically interesting the first half of the year, but we did make our annual trip to Cape Cod in July.

Laura tried her hand at panoramic filming without a tripod, and I tried my hand at gluing the pictures together with the GNU image manipulation program, or gimp I guess both of us have room for improvement, but you kind of get the idea. If you click to get the big version, you can try to identify the couple borrowing our canoe in the middle. But be warned that it's a 400K image, and may take longer than you want to wait.
The kids have been complaining that we never go to any foreign countries.

All right, we said, how about Canada! To make it seem more foreign, how about Quebec! (That has the additional advantage that Laura and I can understand some basic French, while the kids do only Spanish.) We went in September, and we had a good time in Montreal, Quebec City, and visiting a friend in Sherbrooke. Katherine decided that she could do panoramic photography as well, and took this view of Montreal from atop Mont Royal. I tried some more image assembly with the gimp.

I don't travel too much on business, which most people would agree is a benefit, but it doesn't result in the kind of frequent flyer miles some others accumulate. I did have some to burn this year, and sent Laura to meet her mother in Colorado in October. The other way to do panoramas is to just get a camera designed for it. They went up Pike's Peak, and got pretty cold doing it.
By now you're probably thinking, boy what a year of solitary activities!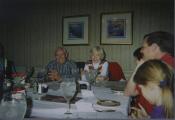 Nothing but lifeless landscapes, plus one frozen mother/daughter. No, that wasn't it at all. Over Thanksgiving we went to Tennessee to celebrate Laura's parents' 50th wedding anniversary with the other two daughters and their kids. The kids got a bigger dose of their cousins in one year than they probably ever have. The guests of honor are shown eating in a restaurant at the Grand Ol' Opry, in Nashville. At right, front to back are Virginia, Dave, and Sally.
We all fit in that room in the restaurant; here is a shot of the male cousins, counterclockwise from right Eric, Ian, Matt, and Kurt (followed by me, Laura, Katherine, Virginia, Dave, and Sally).

Our headquarters was Sally and Dave's house, shown here in the background. In the foreground from left are Katherine, Beth, Sally, Laura, Virginia, and Anne.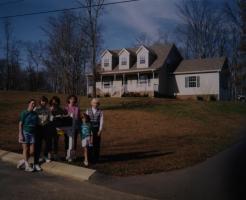 When we weren't attending special dinners to honor Blaine and Anne, we did a little fossil hunting. Dave pointed out that the geology of the area has provided quite a few fossils that can be just picked up, as well as some rocks that can be smashed for fresher samples. We don't get much chance to look for fossils in Mass, thanks to the glacier.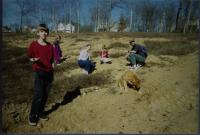 Here is a picture of some fossil hunters: from left Matt, Virginia, Katherine, Kurt, and me. The dog never did find any fossils; I guess they have to be a little fresher for him to smell them.
We did find quite a bit of stuff laying around due to the recent construction in the area. We also found some larger boulders in a creek bed that proved to contain some interesting samples when cracked.

The picture at right shows some of the small fossils we picked up, as well as one at top right which looks like an old bolt, but actually is a fossil. Some of these cylinders can be found loose on the ground, as shown at top left, while others are inside rocks, like the one at top right. Note that the one inside the rock has nice sharp edges, while the ones which were picked up loose on the ground were eroded to be pretty smooth. You may have noticed the background image for this page; yes, it's an embossed version of the small fossil picture. More info on our fossil collecting can be found here.

Overall it has been a good year. We switched churches, and are really enjoying a smaller fellowship. Laura worked two different contracting jobs last year (one of which she is still at) but didn't work at all during the summer. Katherine continues studying Tae Kwon Doe, reading, and babysitting, while Matt shows interest in reading, computer programming and games, and web page development. Yes, they do manage to fit in their homework, for the most part.


Do not be afraid.
I bring you good news of great joy that will be for all the people.
Today in the town of David a Savior has been born to you;
he is Christ the Lord.


Tim, Laura, Katherine, Matt