Christmas 1997
Dear Friends,

Merry Christmas from all of us. We hope you had a good Christmas and a year filled with blessings. This year we are trying something a little different. This letter is a photographic annotation of the email (or regular post) that we sent you. We are sorry about the delay but we wanted you to be able to see all the detail possible in these pictures. We wouldn't want you to miss the rooster ice sculpture! (Click on images to see bigger versions.)

One of the highlights of the year was in February when

we took Kate and Matt to Florida for the first time. We stayed on the ocean in Melbourne near my aunt and uncle, Ginny and George (see photo on left of them with our kids), and visited them as well as made trips to Universal Studios, the Magic kingdom, and Cape Canaveral. We also enjoyed airboat rides through a swamp (photo on right-- remember to click on image to see larger version), a trip to Gatorland, and Tim, Kate, and Matt swam almost everyday in the ocean.


Then in May my parents came from Prescott, Arizona for a visit. They are doing pretty well in retirement, active in their local church, and doing some traveling. Tim sends my father satellite predictions and he sometimes looks for satellites in the clear Arizona air. Kate and Matt played a little basketball with them in our driveway during their visit (photo on left).





This July we went to Cape Cod for 2 weeks, as usual.

Kate made a new friend and now she writes her in Quebec. (Kate writes in English so her penpal can work on her English; Kate can't try French since she is studying Spanish in school.) At left is a photo of Kate with Tim's parents on the beach and at right our kids are examining a starfish in front of our cottage. This year there was an abundance of starfish whereas some years there are more mussels or jingle shells. Don't worry...they didn't kill the starfish.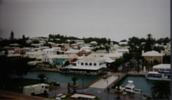 In September Tim and I took a cruise from Boston to Bermuda for a week (without the kids) to celebrate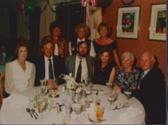 our 20th anniversary and really loved Bermuda. Here is the view of St. George's from deck 5 of our ship, the Royal Majesty. We ate most of our meals with the people in the photo on the right. Tim and I are the two seated in the middle in case you can't figure it out. One night the staff carved watermelon and ice (below left) and we tried to guess what the ice sculpture was as it was being carved (a rooster).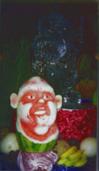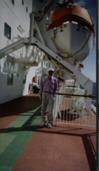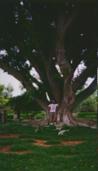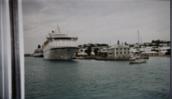 Tim and I added up all the capacities of the lifeboats (hanging by Tim) and there were enough for the 2000 of us on board. (This was before we saw The Titanic.) One day we visited the Bermuda Horitcultural Gardens where we checked out this ficus tree. In a couple years we would like to take the same cruise again but with our kids. At right is our ship docked in Bermuda.




Well that is our news. Let us know if you enjoyed the photos by emailing us. Below are our web pages in case you missed them. Have a blessed new year.



For unto us a child is born, unto us a son is given ...
and his name shall be called Wonderful, Counsellor,
The mighty God, The everlasting Father, The Prince of Peace.


Laura, Tim, Kate, Matt