Christmas 2021
For unto us a Child is born
Unto us a Son is given

---
Greetings, friends and family,
As we get into yet another wave of covid, it's time to give the annual report on how the year went here in Bedford. Again, I underestimated how long it would take to edit video, so this letter did not quite make it out on Christmas. I was editing video when I could have been doing this! Anyway, see the video links below. It's been a bit of a tough year for the country and the world, with waves of covid separated by periods of relatively low risk and more normal activities. I for one am impressed with Dr. Fauci and the epidemiologists who predicted these waves, way back at the beginning.
---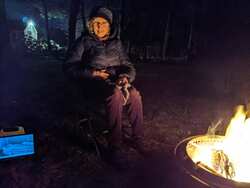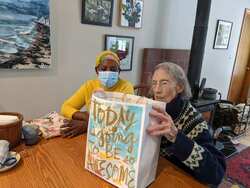 The picture at left shows how things were in January, sitting around the firepit, using the cell phone video monitor to keep an eye on Mom! That's the way things were all around the country as firepits sold at tremendous rates. We started 2021 with a bit of a larger pod than 2020, with Mom and Margaret joining Laura, me, and Matt. We all wore masks (except Mom) when Margaret was here, and ran the ventilation system. I replaced a couple of noisy ventilation fans, and we were on the cutting edge of covid prevention. Mom had her 96th birthday on the 28th, getting some presents early (such as the one shown in the picture, from Margaret), eating cake, and then zooming with friends, kids, and grandkids from all around the country later!
---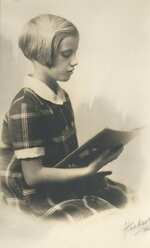 We prayed for months with Mom in 2020 that the doctors, biologists, and biotech workers would develop a good vaccine, and our prayers were answered. Mom even got one shot of the Pfizer vaccine on February 4, which she tolerated well. Unfortunately, her heart was depending on an 18-year old pig valve which was expected to last 10-15 years. She had cardiovascular problems later in the month, and after a short stay in the hospital in which they confirmed the situation, and put her on oxygen, we brought her home and she passed away on the 21st. No, you didn't miss the memorial service; we haven't had it yet. The plan and hope is to do it this spring or early summer, depending somewhat on the pandemic of course! I could say a lot about my mother's life, but this web page is definitely too small to hold it. For now, at right is a picture of her at 8 yrs old (reading, as might be expected!) taken from her father's photo album circa 1933 as well as the obituary
---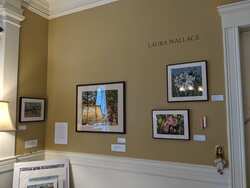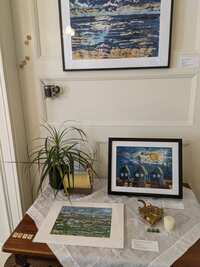 Everyone needs a home hobby during the pandemic, and Laura made quite a few batiks in her basement studio, enough to fill a whole room at Gallery Twist. She went from maybe two to four batiks in a typical show to around thirty in that show, and sold most of them. The picture at left shows her room in the gallery; clicking on it will show another view. Some more of her work can be seen on her artist page at the gallery.
---
The fast-moving disaster of 2021 was the pandemic, while the slow-moving disaster of the 2020s is global warming. My big project during 2021 was going electric with the purchase of a plug-in hybrid van to replace my 23-year-old Odyssey (still on the road, under the care of a friend!). The Pacifica is a great electric car in moderate weather, and I got over 80% electric mileage in the first 5000 miles. It's a disappointment in winter, running the engine unnecessarily almost all the time. Don't buy one of these if you live in Quebec. I'm tempted to run it out of gas, which some people have done, to force it to be electric! If you click on the car picture, you can see the garage charger put in during the solar project. It charges the car in 2 hours, and I get about 38 miles electric from that, everything I need around here (in the summer).
---
But really just using wall electricity isn't *that* green, because a lot of the juice we get comes from natural gas, so we also did a solar energy project to generate our own electricity. That involved a lot of tree work, roof work, log work, and turtle work, best shown in the video. The embedded version of that video has 400 pixel resolution, while the original has 3840 pixel resolution! So use your big 4K monitor if you have one, and go full screen for the full effect.
---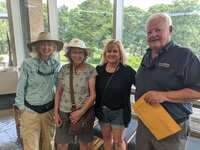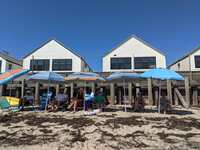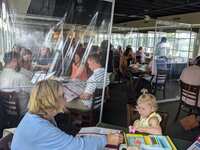 In July we headed out to the Cape for a week with our sisters, my one, and Laura's two, who met up with cousin Brad down on the Cape, as shown in the left picture. At right is our typical beach scene, social distancing as we practiced it. On our first or second day at the Cape, our waiter at the Mayflower informed us that the Crown and Anchor had been shut down for several days by the board of health due to a major covid outbreak, which made national news. This was the first time that Delta was shown to cause a lot of breakthrough infections. We went about our business in the restaurants. The picture shows our annual trip to the Lobster Pot, with plastic separators between our two booths. We had our window open a crack and the air was coming off the water at about 50 mph, so we exceeded all known standards of ventilation. Amy's granddaughter Hazel was able to move back and forth between the booths and entertain herself; rules never apply to small children.
---
The turtles were around as usual this spring, but what was different was that I was digging around the property myself for days on end due to the project, so I didn't miss too many video opportunities. The painted turtles and snapping turtles both laid their eggs, so check out the video. Again, a big screen will be a lot more impressive than a phone.
---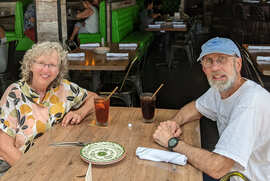 In October we went back to Florida to celebrate our anniversary; that was our first time flying since February 2020. I brought my CO2 detector, and found good ventilation in the airport, and on the plane once we cranked up our air nozzles to the max. We were happy to see that the place we stayed then was still in business, and stayed there again. We ate breakfast in our room, and all other meals outdoors. We felt pretty safe, but at one meal a heavy rain blew sideways enough to get me a little wet, and at another a total monsoon swept in when we were 90% done with dinner. We ended up standing under some marginally effective umbrellas and finishing things up! But all in all Florida in October is a pretty decent place to eat outside, if you can stay out of the sun during lunch.
---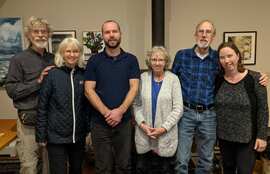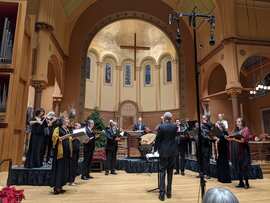 Thanksgiving fell in the gap between the Delta surge and the Omicron surge, so we had a nice get together with Laura's sister Beth, and her husband Kevin and son Ian. Since all were fully vaccinated, we did not use masks. In December we went to our first concert since the pandemic started, seeing Blue Heron's Christmas concert. That required proof of vaccination and masking, but had some risk. We're pretty confident in our three Moderna shots (made in Mass) but this might be the last one we attend for some time!
---
We did see some wildlife just walking around the neighborhood in 2021. Check out this 18 second video of a mother rabbit nursing her babies just down the street from us. It's the only video linked which is not a 4K video, just a standard HD video, but viewing it on a bigger screen than a phone could be helpful.
---
I did fly the drone in 2021...but did not make a video yet to prove it. But here's the video of the 2020 drone flying, which did not make last year's Christmas web page (surprise), in case you haven't seen it via my Twitter or Fakebook link.
---
I still participate in the Cambridge Roundtable on Science and Religion and we actually had an in-person Roundtable in 2021. The other Science/Christianity group that I am involved with is the American Scientific Affiliation. The 2021 ASA annual meeting planned for San Diego was virtual, and I gave a talk on social media and the Christian. I can't give you a link to that talk until next year due to contractual issues. Again, next year's annual meeting is currently scheduled for the same venue, and again we're not sure yet if it will meet the same fate! I think forecasting the end of this pandemic is pretty challenging, given the number of people who think vaccines are not a good idea.
Have a great 2022, if you can. There certainly are a lot of things for Christians to think about, and pray about!
Tim (and for Laura)