Christmas 2020
And suddenly there was with the angel
a multitude of the heavenly host
praising God, and saying,
Glory to God in the highest,
and on earth peace, good will toward men.
---
Greetings, friends and family,
Well, last year's Christmas web page said that "For us, it's a pretty low bar for 2020 to be better than 2019" but like everyone else, we can't say that we exceeded that bar in 2020! However, if you're retired, without small children or grandchildren, and not living alone, it wasn't necessarily all bad. For those living alone, or with children in school (including up to college), and certainly those who contracted covid or lost loved ones in the pandemic, it was a tough year, and our hearts go out to them.
Some of our activities were documented in video (see below) which partially explains why this web page is late; I was editing video when I could have been doing this! I still have to make the drone video, so check my youtube channel for that later on.
---
In January we took a trip to Havana, Cuba. Why go there? Well, it was close, has a very interesting history, and we figured that Trump might try to shut off all travel to Cuba as the election approached. The weather isn't bad in January, either. We had a good weekend in Havana with our daughter Kate and Trump did indeed shut off everything in September (and it worked for him, as he carried Florida). We took a tour with Road Scholar, always a good idea when visiting a totalitarian regime, as they make sure to follow all the rules. We knew this would be our last international trip for a while, as the pandemic was getting accurate news coverage. Rather than a picture or two to summarize the trip, check out my youtube video with over 14,000 frames at 4K resolution.
---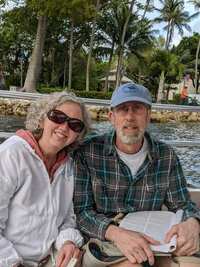 In February we took a trip to south Florida, staying in Lauderdale-by-the-Sea for the first time. We spent plenty of time around the beach, saw some sights, flew the drone, and also took a water taxi down the Intracoastal Waterway, as shown in the picture. We won't be going back this winter for obvious reasons; hopefully the landlord will stay in business, because we stayed in a great place a short walk to the beach and close to many restaurants. We normally don't rent a car when we go to Florida, since we prefer to walk anyway. (What's the hurry, we're on vacation...)
---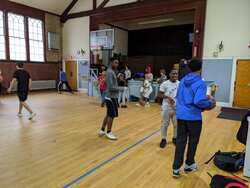 In March, we sat back to watch the pandemic come in. I contracted a bad cold possibly on the plane coming back from Florida, and learned of the suggestibility of the human mind. Watching all the covid coverage, I couldn't shake the thought that I had it, even though I knew that a cold was far more likely. The restrictions got tighter and tighter at Mom's assisted living place, and my final visit there was on March 12, when they locked the doors to visitors. Later that day we went up to Lowell to help with Alison's youth program for what we knew would be the last time pre-pandemic. The basketball kids were enforcing their usual social distancing of -3 feet. (If they run into you while you're watching from the sidelines, it's OK as long as they only move you back three feet.) I felt pretty safe since I didn't think that there was much virus in Lowell. However, we had no intention at all of coming back the next week! Of course the rest of the year was canceled, anyway.
---
Mom's assisted living place offered to do video chats, and we thought that would be great. Unfortunately, that was maybe a half hour a week, and the rest were phone calls, which were sometimes hit-and-miss, depending on how busy the aides were. In their defense, they were very busy since the family members who did certain things were banned. I put together a video tablet system which would be hopefully simple enough for Mom to use, or at least simple for the aides to operate. Since this was something that quite a few people needed, I put together a video on how it worked, with the second part how to set it up. It worked pretty well for a while, but developed connection problems later on. It would say connecting and just loop and loop. I never figured out the issue; it was cellular-network-only, so no wifi problems, and it never failed when I tried it in the parking lot. At home with us, now, the tablet never fails, but it's on wifi.
---
In the locked-down suburbs, the animals seemed more visible than ever. They seemed to be running down the roads as often as they ran through the back yards. Were they taking over the suburbs, or did it just seem like it? Check out my video, and be the judge.
---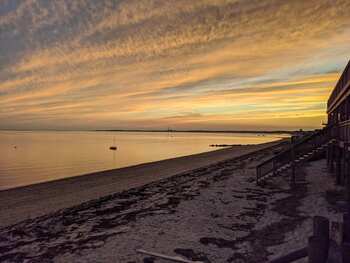 By July, everyone was excited about taking local vacations, so Cape Cod was booming, especially the high end rentals. We were no exception, heading out to N. Truro as usual. We didn't have to address the question of whether to bring Mom to the Cape this year. If we took her out of her place, she would have to quarantine for two weeks upon return, a difficult thing. We relied on the tablet to talk to her every day, and it worked, mostly. We did see a lot of the family at the Cape, including Laura's sister Beth and her husband Kevin. With separate cottages and appropriate spacing on the beach, we managed to pull it off. The wind blowing off Cape Cod Bay at dinner time is also normally enough to exceed all known standards of ventilation when you open a couple of windows!
---
We were still seeing the animals late in the summer. They were perhaps more fearless than ever, and they were reproducing. The young cormorants at the end of the video were incredibly fearless. Teenagers, I guess. Thanks are owed to Bill G. for paddling me into position to shoot the video; the wind was completely responsible for blowing us away from the birds.
---
Canoeing on the Concord River was a good activity for the pandemic. It's not exactly a white water experience, but the up side is you can see some fantastic reflections, as shown in the video. That is, until the maniacal paddlers show up!
---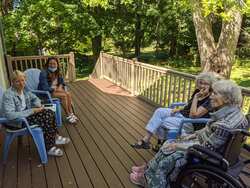 Mom wasn't really doing that well in pandemic lockdown at Stonebridge. Nobody was there to take a walk with her, like I did every day, and they requested a wheelchair, which we sent. They thought she was losing weight; when we got them to put her on the scale, she seemed to have lost almost 20 lbs! We started sending in some Ensure for her. They told us that she seemed to be unable to swallow her pills, sometimes. A medical evaluation suggested that using applesauce might help. Since the aides were unable to do anything as medical as give someone a pill with applesauce, we would need to hire nurses at the facility to do that. I found that being a health care proxy remotely was killing me. I had no real idea how the patient was doing! We decided to pull her out of Stonebridge and move her in with us, which we did in late August. She's happier here and I'm happier being able to keep an eye on her. We have help in about 30 hours a week, and I help her another 30 hours or so. I really don't have that much to do in the pandemic. We have no limit on tablet video chats with the family, our tech support is good, and the in-person visits have been good as well. At right, Mom is with her two daughters-in-law and her granddaughter Manya.
---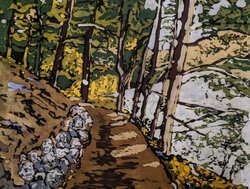 Laura has been making a few more batiks than usual during the pandemic. She's still exhibiting some of her batiks at the local Gallery Twist. At left is an image of a new one called "Walden Pond" that will be exhibited at the Gallery in February. Tim still participates in the Cambridge Roundtable on Science and Religion. These are virtual now, but still seem to be effective. The other Science/Christianity group that Tim is involved with is the American Scientific Affiliation The 2020 ASA annual meeting in San Diego was canceled. Next year's is scheduled for the same venue, and we're not sure yet if it will meet the same fate! July might be optimistic for the end of the pandemic, but we'll have to see if vaccinated people have different rules.
Have a great 2021. I don't think that asking (and praying) for one better than 2020 is unreasonable, at least in the rich countries which will be receiving the vaccines!
Tim (and for Laura)