Christmas 2019

While they were there,
the time came for the baby to be born,
and she gave birth to her firstborn, a son.



Greetings, friends and family,

Year three of my retirement proved to be a pretty difficult one, as my father had a stroke and died in April. We lost the patriarch, who was also the full-time caregiver for Mom, but were able to get her into an assisted living facility not far from us. We'll say more about family losses below after we get to the first part of the year. As usual, clicking on the pictures should give you a larger version.
---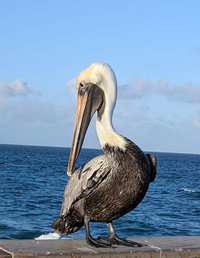 In February we took another trip to Deerfield Beach, FL. It was less eventful than last year's as all was quiet at nearby Stoneman Douglas High School. We did see some of the kids at the beach, when they got some time off around the anniversary of last year's shootings. Laura and I took it easy, caught up on some reading, and enjoyed the location, walking distance to the beach. The pelicans are pretty tame, perching on the pier quite close to the walkers.
---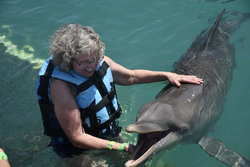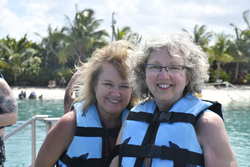 In March Laura took a cruise in the Caribbean with her sister Sally. It was pretty nice weather, the sisters got plenty of time together, and Laura saw many places in the Caribbean she had not seen before. One of the highlights was encountering the dolphins, as shown in the picture. They're pretty big and powerful, but fortunately also well-trained!
---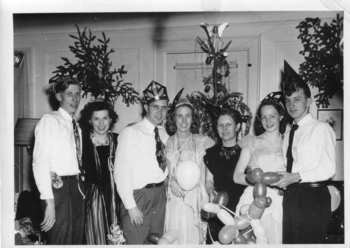 In April, Dad had a massive stroke, and unfortunately nothing could be done for him; he passed away on the 19th, at age 94. We had a memorial service at the end of June. The picture from New Years Eve 1950 shows, left to right, Mom's brother Bob and Betty, Dad and Mom, Betty's Mom, and Helen and Dad's brother Frank. Bob and Betty made it to the memorial service, but Dad's brother Bill (not in the picture) came down sick and was unable to make the trip from Long Island. Helen passed away in early June at age 86, and Frank was also unable to make the trip from Florida. Bob passed away this December, at age 91. At the start of the year all six of the young people in the photograph were alive, and now three are with the Lord. A tough year for us, even though they are in a much better place.
If you would like to view the video of Dad's memorial service, and hear three grandchildren, three children, and one daughter-in-law, plus some old-time hymns, drop me an email and I'll send you the Youtube link. The video is unlisted, and putting it here (on the web) would kind of defeat the purpose of that! You can forward the link to others, just don't put it on the web. The video does contain the pictures that we projected at the reception, as well as some other pictures, the service program, and the obituary.
---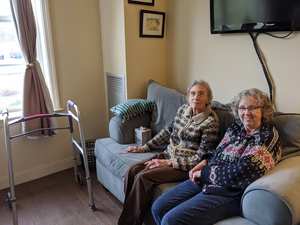 Mom's memory is failing, and she needs a good deal of assistance in everyday life. It would be difficult to provide that in either our home, or my brother's, so we got her into the Stonebridge assisted living facility just across the Bedford line in Burlington. After almost 70 years of living with Dad, it's quite an adjustment for Mom, but one of us visits her almost every day. She is able to go to church with Laura and me, and spend most of the day here on holidays. She does not have a phone, but we sometimes call her friends from my phone when I visit. The picture shows Mom in her room with Laura. Yes, she has a TV, but she never watches it. It's there mainly for visitors who might need to see something important. We moved the sofa under the TV so she can look out the window more easily, and she's much happier with that arrangement!
---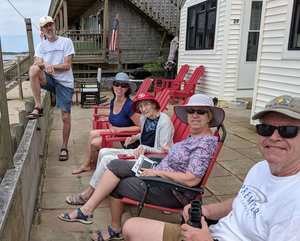 We've been vacationing for two weeks at Cape Cod for decades, but the second week has been occasionally conflicting with the ASA annual meeting, so we decided to switch to one week last year. With Dad's passing, we canceled one cottage and went to the Cape, almost as usual, with my sister Amy, her husband Bill, and Mom. Our daughter Kate also joined us for a few days. It was a good time, and brought back some memories for Mom. We took it easy, flew the drone around, and did our usual Cape activities, just for one week instead of two.
---
After the Cape, we headed to Wheaton College in Illinois for the ASA annual meeting, this time with Laura's sister Beth and her husband Kevin. I gave a talk on "The Cyber Problem: History, Outlook, and Responses" and you can hear the talk and see the slides on this page if you scroll down to the W's.
---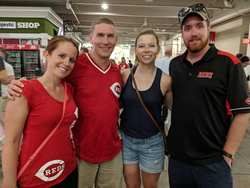 After the ASA meeting, we drove down to Purdue, where Beth and Kevin were married, and where Laura and I were married a week later. Purdue was doing fine, but the house we were married in had been torn down, which was quite a surprise. We did some research to track down the reasons for that, which are fairly complicated, and related to the highway which was constructed close enough that some of the property was taken by emminent domain. We also caught up with some old friends, which was fun. We continued down to Cincinnati and took in a Reds game with Amy and Bill and their local kids and spouses.
---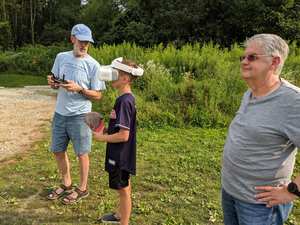 For our finale, we drove up to Cleveland and visited my friend Jay (friends since kindergarten, believe it or not). We flew the drone with Jay's grandson Max, went to the Rock & Roll Hall of Fame, went to a baseball game, and caught up with some other old friends, one of whom Laura had not met, and some that we hadn't seen for 20 years. You might wonder how Mom was doing, with us on an extended trip and Amy back in Cincy. Well, my brother Mark visited her for a few days while he was in town, but then he flew off to Greece to join Anna for some family events there. Our son Matt picked up the task, and did consistent visiting, as well as some medical diagnosis, while we were gone. Mom is always happy to be visited by her grandchildren.
---
I heard from Karen Green in May that my favorite CD of hers, Romans, was now on her Bandcamp page. I really wanted to make a drone video and use a track from that, but I just wasn't sure if I could find any drone footage equal to the music. I didn't want to try to reprise last year's Cape Cod video. Well, wouldn't you know it, our church retreat to Camp Berea happened to occur at peak foliage season, and then we met a friend in central Mass a couple of weeks later, at peak foliage there! Check out the video, which is 4K and best seen on a 4K monitor if you've got one. But as long as you have decent sound, you should enjoy this one!
---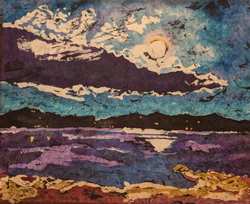 When we're not traveling we do a few different things. We're still involved in a number of activities at our church. Laura has been exhibiting some of her batiks at the local Gallery Twist. At left is an image of one called "Moonrise" that she recently sold at the Gallery. Tim still participates in the Cambridge Roundtable on Science and Religion. We had another joint event with ASA fellows attending a special Roundtable after the ASA meeting at Wheaton. If you are interested in science and Christianity, consider attending the 2020 ASA annual meeting at Point Loma Nazarene University in San Diego July 24-27! (Students can join ASA for free.)
Have a great 2020, and I hope your candidate wins the election! For us, it's a pretty low bar for 2020 to be better than 2019, but few are predicting political civility to be better. I didn't really do justice to our travels in the small pictures included in this web page, nor to the many people we saw, but since we flew the drone in many different places I put together a four minute video in which you get around 15 seconds of a lot of different drone flights. If you like that stuff, check it out, and experience the locations we visited from above.
Tim (and for Laura)