Christmas 2018

Therefore the Lord himself will give you a sign:
The virgin will be with child and will give birth to a son,
and will call him Immanuel.


Greetings, friends and family,

In 2018, we experienced year two of my retirement. We overdid it a little on the travel in 2017, so we backed off on that somewhat, and some of our friends came to visit us, instead. Also, the ASA meeting being local at Gordon College eliminated one trip. We didn't totally hang out at home, though, taking about five trips (about half as many as 2017). We did set personal records for the number of baseball games seen in a year, in Arizona and Boston. As usual, clicking on the pictures will give you a larger version.
---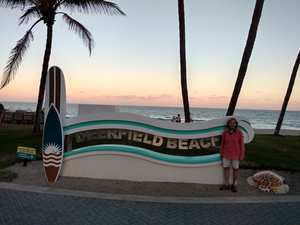 In February we took a trip to Deerfield Beach, FL, a place we hadn't been to before but which got good reviews and was far enough south to be consistently warm. (People who know us will be aware that Laura's sweatshirt does not necessarily mean that the temperature is below the 70's.) I like to take a jog down the beach in the morning, and then a quick swim. The Portuguese man o' war jelly fish were on the beach but we didn't encounter them in the water. I think the food is a little better in Singapore, but did find a Thai place that was pretty good in Florida. We didn't rent a car, and just hung out near the beach; I did some work for the upcoming ASA meeting on my laptop. All in all it was pretty idyllic until some idiot decided to shoot up a school just 9 miles away in Parkland. Watching it on local TV was a little too close for comfort, and even more engaging when the shooter initially escaped.
---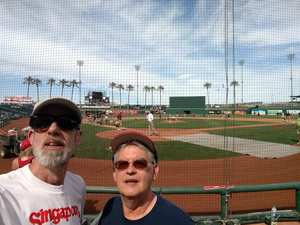 In March I took a trip with my friend Jay out to the Cleveland Indians spring training site in Goodyear, AZ, near Phoenix. We took in four games, made a one-day side trip to the Grand Canyon, watched the Celtics beat the Phoenix Suns in downtown Phoenix, and flew the drone here and there. You can really get close to the action in those spring training games; we had to watch what we said for fear of offending the batter, or really anyone in the dugout! Neither of us had ever been to spring training, so it was fun. It's true that Red Sox spring training is closer, but I'm pretty sure it's a lot more crowded!
---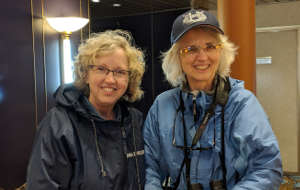 Well, if I was going to go off by myself, it only seemed fair for Laura to do the same, so in April she visited her sister Sally in Atlanta, and in June she went on a cruise up the St. Lawrence seaway with her sister Beth. The weather cooperated; Atlanta is good in April, and Canada was brisk but tolerable in June. The picture shows Laura and Beth in the ship, but they took a few trips to various destinations on land, as well.
---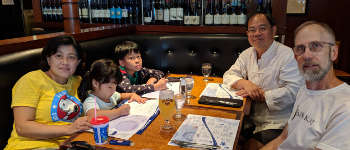 July was definitely the busiest month of the year. In 2017 we visited Taiwan and our friends the Chen family showed that Asian hospitality, guiding us around the northeast part of Taiwan that our tour had omitted. They visited Boston in early July, and we were able to return the favor and show them a few things around here. In the picture we're at Legal Seafood, always a good place for tourists and locals alike. We toured around Harvard and MIT and saw some sights and some museums.
---
Later in July we took our usual two-week vacation on Cape Cod, the first week with just my parents (shown in the picture), and the second week adding my sister and brother and numerous other family members. We've been doing this trip to North Truro for about 50 years, and I've only missed a few years here and there for various reasons, although it hasn't always been two weeks. In the future it probably won't be either, as we cut back to one since the ASA meeting has a habit of conflicting with that second week. I decided to make the ultimate video showing just why we'd go back there all those years, and had the brilliant idea of asking Karen Green for permission to use one of her songs as the soundtrack. You probably don't know this song, but it's pretty fantastic and you can get this and more at her Bandcamp page (Makes a great Christmas gift, hint, hint.) The video itself is 4K, so if you have a 4K monitor, try watching it full screen. But if not, no problem, just make sure you have a good sound system or pair of earphones to hear the soundtrack!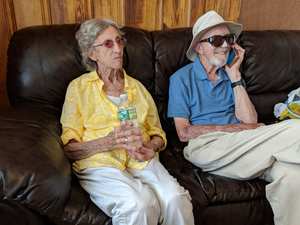 ---
The ASA annual meeting, which is always a fun time of seeing old friends and making a few new ones, took place in July at Gordon College. As alluded to above, I had more responsibilities than usual, serving on the committee, moderating a couple of sessions, and also presenting a paper. We broke new ground with the topic of Digital Technology (effects of and faith responses to technologies such as artificial intelligence, automation, cyber attacks, and pervasive smart phone use by all ages). If you missed it, you can still hear the talks, see the charts, and even see the plenary talks here. If you're worried about AI taking over the world, or the Singularity destroying everything you hold dear, scroll down to the "W's" and perhaps my talk will reassure you. If you haven't heard Francis Collins before, his talk is highly recommended. (If you have heard him, it's still recommended.) If you want to understand the order of the talks, take a look at the schedule which makes more sense than the alphabetical listing.
---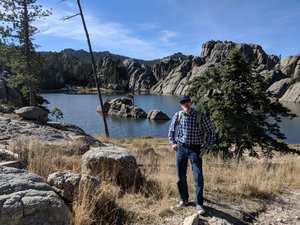 Our last trip of the year was out to South Dakota in October. What, where, you're saying? Well, I'm not that big on bucket lists, but I am aware of the states that I haven't visited and SD was on that list. Plus at the time we made the reservations, a fair bit of the Northwest was on fire, and SD looked like a safer bet. We saw the badlands, Custer State Park with a lot of buffalo and other critters, Mt. Rushmore, the Crazy Horse monument, etc. Shown in the picture is Sylvan Lake, a pretty nice spot! We did shoot some pretty nice drone video in 4K, but I probably overreached by uploading it to Youtube in 4K, 60 fps! The way I got to 60 fps was to double the speed of much of the footage. If people and animals aren't walking around in the field of view, that's a great way to see it faster and smoother. Unfortunately, many people don't have the system to display this, so it may be jerky or unwatchable. If you've got a gaming rig with big graphics power, or just want to try it, check out my Youtube channel and look for the South Dakota video. While you're at it, check out the Arizona video, and everything newer than that (all of which were filmed in 2018). If you want to be informed when new stuff pops up, you can subscribe to my channel on Youtube or follow me on twitter @DrTechTim. (Let me know if the South Dakota video works or fails for you. I might put up a more usable 30 fps version some time!)
---
When we're not traveling we do a few different things. We're still involved in a number of activities at our church. Laura has been exhibiting some of her batiks at the local Gallery Twist (new name) and some of those can be seen here. Tim still participates in the Cambridge Roundtable on Science and Religion. We had a great joint event with ASA fellows attending a special Roundtable after the ASA meeting in July. If you are interested in science and Christianity, consider attending the 2019 ASA annual meeting on "Exploring Creation" at Wheaton College July 19-22! (Students can join ASA for free.)
Have a great 2019. We hope to meet up with some of our more distant friends in 2019 as we do some more traveling. (The latest drone equipment is the DJI goggles; if you've flown the drone with us before, we can do it all over again with those for a new experience!)
Tim (and for Laura)