Christmas 2016
For unto us a Child is born
Unto us a Son is given


Dear Friends,

Merry Christmas and Happy New Year from the Wallaces. We had a pretty good year, as I wrapped up 37+ years with MIT Lincoln Lab by burning my extra month of vacation. I knew I was going to do it from the start, so actually was mentally retired pretty much all of 2016. I took on some more stuff than usual, we extended a few trips, and I fell even farther behind than usual, which explains why this Christmas letter wasn't finished before Christmas! Otherwise things went relatively normally, but I expect next year to be very different!

In March we went to Costa Rica for a tour emphasizing the wildlife. We often spend a bit of time in big cities when we travel, and do some people watching, but in Costa Rica (a small country) we just rode around the countryside in a bus. I did find some of the people to be pretty interesting, but there wasn't time to look at all that video before Christmas. Instead, I stuck our better animal videos on youtube in case you like that kind of thing. The animals don't necessarily fill up the screen, but this is full HD video so watch it on a screen bigger than a phone and you'll see them all right. If you're contemplating a trip to Costa Rica this is the kind of thing you're likely to see. (I let Youtube stabilize the video which causes a bit of jitter in the captions when most segments start. It's probably better in retrospect to skip titles in the video itself if you plan to allow them to stabilize it.)
---
In May Laura and her sister Beth met up with her sister Sally at her place in Atlanta. Sally showed them around the city, and they did the usual tourist things. Like most big cities, Atlanta isn't the easiest place to park cars, so Laura used Uber for the first time on this trip. It wasn't Laura's last trip to Atlanta in 2016, either.
---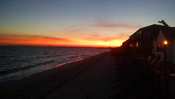 In July we went to the Cape as usual and met up with the family. We usually put in a picture of the family but for variety this year how about a picture of one of the awesome Truro sunsets over Cape Cod Bay? We're used to a few of these every time we are there. We got some exercise, did some shopping, read some books, caught up with the family, and then blasted out early because the ASA conference was starting out in Azusa, California. Some days when the ASA overlaps with our vacation and is too far away we just blow it off and stay at the Cape, but since I may have time to do more with the ASA in retirement we went this year.
---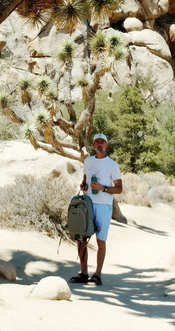 Speaking of the ASA, we headed out to California and took an ASA tour of Joshua Tree National Park in the desert. The temperature went up to 115, but it was a dry heat, as they say; I think the humidity was around 5%.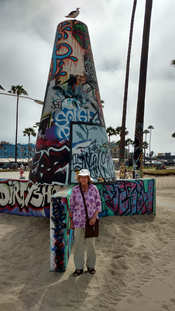 The picture shows me in the shade, water bottle in hand, dressed in white (with invisible sunblock), and carrying the backpack because it's too hot to put it on my back! If you click on it the big picture shows a large Joshua tree providing the shade.
The ASA conference itself was fun, as usual, considering key issues of science and Christianity while celebrating our 75th anniversary with new director Leslie. They brought back some of the old members who don't usually make it to the meetings and it was fun to see them. Next year it's in Golden, Colorado and we have firm plans to go.
In keeping with our plan to extend the vacations in 2016 while burning my extra vacation, we headed over to LA to see some sights. Laura had never been there, and I'd only been there for job interviews and a couple of quick business trips. We took a tour which went to Venice Beach where there are some interesting characters and some interesting art, as shown at right. We spent some time at Santa Monica, where Whitey Bulger hung out for quite a few years (and we now understand why he stayed there). We saw the stars at the Hollywood walk of fame, as well as the Griffith Observatory.
---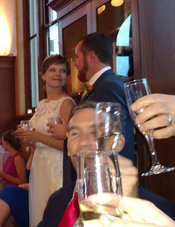 In the fall we had two nephews getting married, one on my side and one on Laura's side. In September we went to Ohio for the wedding of Mark and Karin. At left is a candid of a toast at the bottom and the wedding couple in the background. It was a good time in my old stomping grounds of Ohio. This was the one trip this year that we didn't take a lot of extra time, just allowing an extra day or so to visit with Amy and Bill.
---
In October we went to Georgia for the wedding of Kurt and Tara, shown at left between Kurt's mom and sister. Of course at a wedding you mostly see the other guests; at right is some of our group having barbecue for lunch in Georgia. We also managed to do some hiking around rural Georgia with Kevin and Beth before we headed to Atlanta to see the city.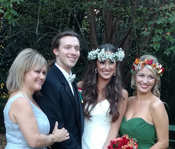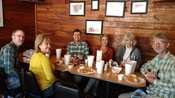 We went up the world's largest escalator (it was big), and took the CNN studio tour. It was interesting to see all the various studios, but even more interesting was the reaction of the many international visitors to the studio which broadcasts CNN International. They repeatedly asked if that was where CNNI originates and seemed pretty awestruck to see it in person.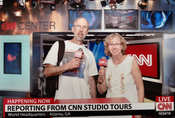 To us Americans CNN is just another cable station, albeit one that has a historical position in cable news coverage, but in many places it probably gives news that would be completely unavailable from local sources. In the picture you see what it might look like if Laura and I embarked on a TV anchor venture in retirement. I wouldn't want to do it because it might involve dressing up.
---
As usual Laura kept busy with many different activities for the church and local art groups. She helped out every other week at an after-school program in Lowell run by a good friend. I helped as well, taking advantage of that available vacation to take a half day every other Thursday. Those high schoolers have a lot of fun and Alison runs an excellent program. I mainly helped in the sports area with a little ping-pong, basketball, and juggling while Laura did the hard stuff like art, cooking, and sewing.
---
As far as my other activities go, I again spent some time attending the Cambridge Roundtable on Science and Religion, but I haven't written up my experiences yet; just one more thing I'm behind on! In my short last year of work I did manage to write a couple of reports (pretty much a lost art in this era of pervasive briefings!) and one user manual, and do some training of the analysts who will be using some of the stuff I left behind. It's always good to feel like you wrapped things up in decent fashion on your way out, but that's not always possible in the engineering profession, so I feel fortunate there.
---
Have a great New Year!
Tim (and for Laura)