Christmas 2012
And suddenly there was with the angel
a multitude of the heavenly host
praising God, and saying,
Glory to God in the highest,
and on earth peace, good will toward men.

Dear Friends,

Merry Christmas and Happy New Year from all of us. This page is a photographic annotation of the email (or regular post) that you may have received. [If you want to see a bigger (and sometimes also wider) version of the pictures, just click on them.] And if you have a giant monitor, I recommend that you shrink your browser window down to about half the screen width. [If you're less than completely computer-literate, try bringing your mouse over to the right edge of the browser window, and when the cursor changes in some way press down your left mouse button and drag the edge to the left a ways.]
---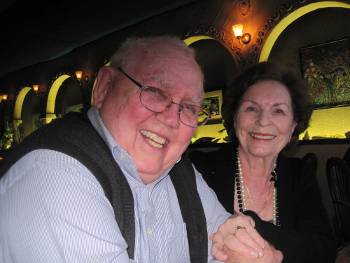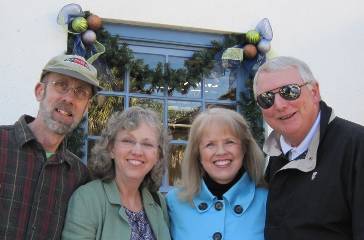 In January Laura, Kate, and I went down to Florida to visit Laura's father Blaine and his wife Ann. Well, we also did a little jogging down the beach, a little swimming, a little bird watching, and a little sightseeing! Our hotel was right on the beach. At left are Blaine and Ann at one of our favorite restaurants, the Islands Fish Grill.
We visited with Blaine's sister Nancy and her son, cousin Burgess. We were able to connect with old friends Stacy and Grady in St. Augustine (right picture). [The women still look about the same as they did in the 70's; I'm not sure what happened to us guys. Possibly a lack of the proper skin-care products...] We had a great visit and vacation, but little did we know that it was the last time we'd see Blaine as he passed away in May.
---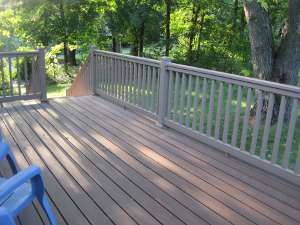 We wanted to do some major work on our deck, and at the same time Matt came to live with us and needed a job, so he agreed to do most of the demolition and lay the decking. Our good friend Bill the former contractor gave us advice on how to get the decking I wanted, and how to handle some of the issues. One of the problems with the old deck was insufficient spacing between the boards, so we wanted to fix that with the new. We got a pro to give a hand with the railing which needed to be moved. The decking itself is plastic and can be difficult to work with, but Matt did a great job, even getting the stamp of approval of Bill the perfectionist. If you can't see the screws, that's because it's one of those invisible fastener systems with plugs exactly matching the decking. Matt also did some house painting over the summer for us. I usually paint about one side a year, (and our house/garage has many more than 4 sides) but we got several sides done this year with little to no effort on my part!
---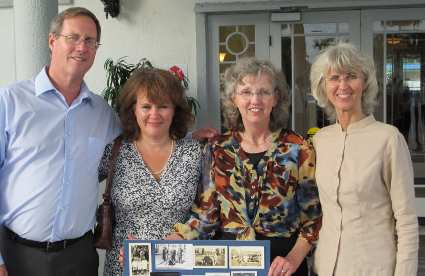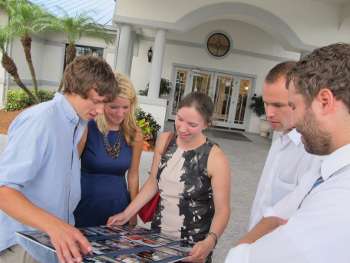 In May Laura's father Blaine passed away in Florida at 86. It was a shock, since he seemed in good spirits when we visited in January, but not a big surprise since he wasn't really in great health, overall. The four of us went back to Florida for the memorial service and reception, meeting up with a lot of cousins and a few good friends from way back. At left are cousin Rick, with the three sisters Sally, Laura, and Beth holding a poster documenting Blaine's life. At right is the next generation of cousins examining the poster; left to right are Kurt, Virginia, Kate, Ian, and Eric.
All in all, a memorial service for someone who's lived a full life isn't all sadness, but more a time to recognize their accomplishments and their friend and family ties.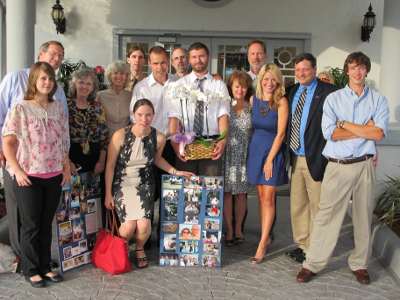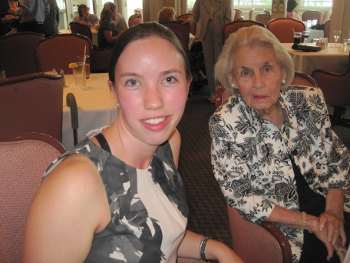 It was fun to see Bob for the first time in over 30 years. When he was a Purdue student, he used to help Blaine around Bittersweet Farm on Saturdays when I would sometimes be over there replacing the shock absorbers or doing an oil change on one of our old cars. Blaine's big sister Nancy was there, the last surviving sibling. She herself did not make it to Thanksgiving, passing away later last year. I'm sure she missed Blaine's daily phone calls those last few months. At left is a picture of many of the close family and friends. Left to right are Rick's daughter Elizabeth, Rick, Laura, Beth, Matt, Kate, Ian, me, Eric, Sally, Bob, Virginia, Dave, Stacy, and Kurt. Not shown is the large contingent of Ann's family, and their many friends from the church and the neighborhood. In the picture at right are Kate and Nancy. If you missed the service, Laura's summary of her father's life is here.
---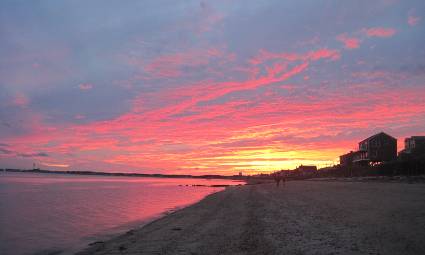 In mid-July we went to the Cape for two weeks as usual. My parents had their three children and an assortment of grandchildren there. Usually we try to round up as many as we can for a group picture which I insert here, so readers can determine if anyone looks a year older than last year's picture. This year we didn't seem to have as many pictures of people.
I can think of two possible reasons for that: the grandchildren are getting so big that they don't change much from year to year, and the sunsets were so awesome that some of our photographers were instead painting pictures or photographing nature. The weather was good, and we also did our usual reading, talking, swimming, kayaking, juggling, etc. Laura and my sister Amy did some painting with Amy's daughter Suzy, the art student. It never hurts to get some expert advice!
---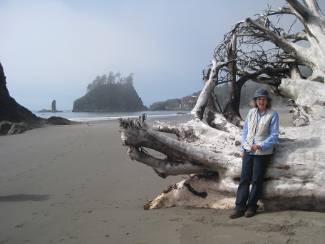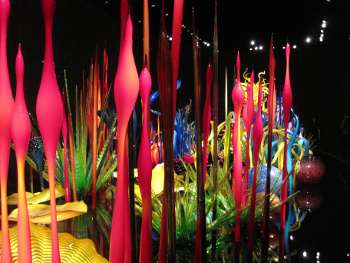 Laura and her two sisters Sally and Beth went to Victoria, BC in September to kind of decompress after all the events of the year. It was a first for them (but perhaps not a last), vacationing together without their families. They visited Vancouver and Olympic National Park in Washington, as well as stopping off in Seattle. They had a good time viewing a lot of great scenery as well as a few man-made items such as the glass sculptures of Dale Chihuly which are on display in Seattle. They visited gardens, took plane rides, ate some good food, and had a good time of relaxation. I can't tell you a lot more because I wasn't there. Anyway, maybe these pictures give you the flavor. At left is some driftwood in Olympic National Park, and at right are some Chihuly glass flowers.
---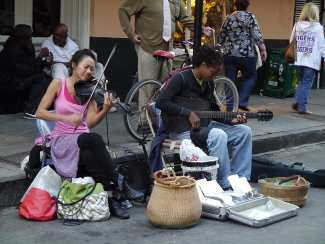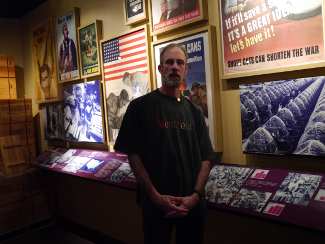 So that's enough vacations, right? No, Laura and I got away to New Orleans the first week of December. It's a place I've always wanted to visit, and it didn't disappoint. The weather was good, the street musicians were good (see left picture), and we did a little bit of everything while there. The World War II Museum is quite famous and deservedly so. It's got an awful lot of artifacts like the posters in the picture at right, as well as audio and video histories of the various aspects of the war. We took a bayou tour on an airboat to say hello to a few alligators and great blue herons. We even got a chance to stop in to see Sally and Dave in Georgia on our way home. After that it was back to the cold reality of winter in Massachusetts.
Daughter Kate is still living in Somerville and working in Cambridge, so we're able to see her reasonably often. Son Matt is living here right now, and has been doing a variety of things including volunteering at the local Council on Aging to help in the tech area. Laura is still teaching Sunday School and doing her various volunteer activities at the church and in town. I'm still at Lincoln Lab, and doing a little log splitting, juggling, and snowboarding from time to time. I help Laura with her Sunday School class and we both sing in the choir.
Have a great New Year!
Tim (and for Laura)