Christmas 2004
But the angel said to her,
"Do not be afraid, Mary, you have found favor with God.
You will be with child and give birth to a son,
and you are to give him the name Jesus.
He will be great and will be called the Son of the Most High.

Dear Friends,

Merry Christmas and Happy New Year from all of us. This page is a photographic annotation of the email (or regular post) that you may have received. [If you want to see a bigger (and sometimes also wider) version of the pictures, just click on them.] Tim is the author of this year's letter.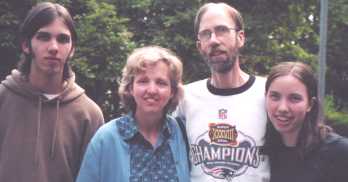 How do we decide what goes in a Christmas web page? A few years ago a PBS NOVA producer gave a lecture at MIT Lincoln Laboratory and explained to us that one of the main criteria for picking a topic for the NOVA program was good visuals. It's the same thing in a web page; without good graphics, the saga of our existence in 2004 is just not as compelling as it should be! We basically start with the pictures, and then explain them. A few obligatory paragraphs summarizing our daily activities and we're done. (I know, I know, if it's that simple, how come we don't always get it done by Christmas!?!)
We have a lot to be thankful for this year. Katherine successfully completed her first year at the University of Rochester in May (studying linguistics), but not without a little glitch (more on that below). We did a bit of a nostalgia thing, taking the kids to a couple of places which Laura and I had visited but that they had never seen: Niagara Falls and Colorado.

We went to Niagara Falls over April vacation, taking Katherine away from school for a weekend and had a good time. No, I'm not going to show you any pictures of the Falls--something tells me you may have seen those somewhere before. If you haven't seen it in person, better hurry up. Another couple of thousand years and it will be eroded down to nothing.
We went to the Cape as usual in July, with the extended family: my parents Stan and Carol, my brother Mark, my sister Amy, and their families. Everyone made it which doesn't always happen when we have a couple kids in college and more in high school. To get the flavor of things check out the picture, left to right Bill, Eleni, Suzy, Mark, Amy, Mark, Manya, Jeanette, me, Carol, Katherine, Stan, and Matt. (Not shown is photographer Laura, sick nephew Michael, and Michael's mom Anna keeping an eye on him.)
We've shown pictures of the Cape before, but on a winter day like today with the snow cover we have it's hard to resist some beach pictures. One of the advantages of being at Truro is that it's a short walk from the bay side all the way to the ocean side. The path looks something like this in July; Manya, Jeanette and Michael are in the foreground and my mother and I in the background.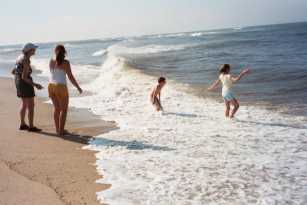 Once you make it to the ocean side of the Cape, you can expect to see a few bigger waves than we usually get on the bay. It's the same cast of characters as in the previous picture, except that I'm not in this one. Yes, the smaller the kid the wetter they get!
Laura went to high school in Colorado Springs, and I have traveled there frequently on business, but the kids had never been there, so we went as a family in August. We started out at Rocky Mountain National Park, hiking to some pretty good elevations over 10,000 feet, seeing some bighorn sheep and elk, along with lots of tourists. We then headed down to the Springs and met up with Laura's good friend Carol from high school. Shown is a rock formation in the Garden of the Gods park; Laura and Carol are on the path.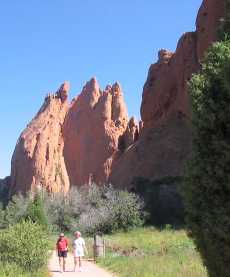 Since the cowboy parade was coming through town, we checked that out to give the kids the maximum dose of the West. Yes, they do come through on horses. The red awning is for Le Creperie, a restaurant that we visited. The good news of making business trips to a city is you know some restaurants. The bad news is that they're not always cheap!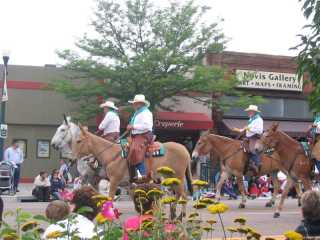 We were going to hike up Pike's Peak but we came up just a little short in energy, equipment, and enthusiasm so we took the cog train. On the way up we saw some wildlife, especially the marmots (rodents) which are kind of curious about the train. Unfortunately, the visibility wasn't much at the top that day, but we did get a few breaths of very thin air. Laura and Katherine are shown in the same pose we saw Laura and her mother just a few years ago. It's a great place for a picture.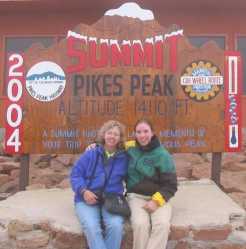 Well, in keeping with our Colorado wildlife tour we ran into a herd of wild giraffes, shown at left. Oh no, wait a minute, those were at the zoo. We visited one of Laura's favorite places, and I have to say that it wasn't bigger than the San Diego Zoo or the Cincinnati Zoo, but it was pretty nice. Do those giraffes look happy to you?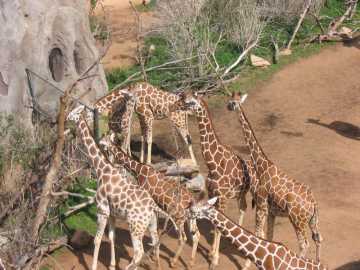 I mentioned the glitch finishing up Katherine's first year at school. The night before her last two finals she decided to go contra dancing with some friends with a car. They got in an accident and she suffered a concussion and some cuts, and was unable to take her finals until the fall. We are thankful that all four kids in the car had their seat belts on since the car overturned. The others had more minor injuries. I'm not going to put any pictures of carnage on a Christmas web page, but you can check them out on the Rochester channel 10 web site if you want.
Laura continues to work nominally 30 hours a week doing Q/A for GDAI. This year again her 30 hours ranged beyond 40 when the crunch hit! She also worked most of the summer, which she hadn't done previously. As a contractor she can pretty much take vacation when she wants to, though, so she did get some good time off during the year, visiting her sister in Georgia and father in Florida. In addition to teaching pre-K and K Sunday school she has various other activities including a guitar class, the women's group at church, a book group in town, and a monthly prayer group.
I am keeping busy at work, as our group took over another larger group, suddenly growing by a factor of three. I'm still a co-leader of the Men's group at church, a member of the choir, and helping Laura in the Sunday School. Our curriculum is a little over the head of these small kids sometimes, but we do a variety of things to keep them busy. Our group this year is unusually small, so we do 10 minutes of singing with the 1st/2nd class at the end and they like that. Laura plays her new guitar for the kids.
Matt is finishing up his time at Bedford High this year and will probably head to college in the fall. All in all, a good year with plenty to be thankful for.

Tim, Laura, Katherine, and Matt