Christmas 2003
I bring you good news of great joy that will be for all the people.
Today in the town of David a Savior has been born to you;
he is Christ the Lord.

Dear Friends,

Merry Christmas and Happy New Year from all of us. This page is a photographic annotation of the email (or regular post) that you may have received. [If you want to see a bigger version of the pictures, just click on them. This year you not only get to see them bigger, you usually see a somewhat wider view!]

The biggest event of the year was doubtless Katherine's departure for the University of Rochester in August. While in past years we have often taken a few family trips during the February or April school vacations, this year everything was pointed towards helping Katherine decide which schools were best! The fact that she wanted to study linguistics was helpful in ruling out some schools which did not offer it.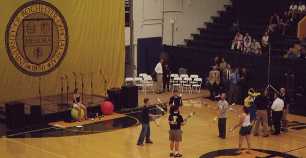 In February Katherine and I (Dad) took a pretty long drive to Cincinnati to briefly visit Aunt Amy, Uncle Bill, and family (and get free hotel service), and then headed out to see the University of Illinois. She was already accepted there, so it was a little more interesting than some of our visits, but Illinois is not exactly paradise on earth, of course. It's excellent academically, as Uncle Mark could explain, but ... on we went to Michigan.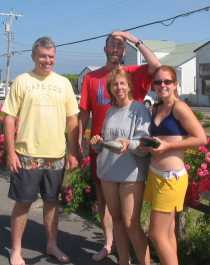 We got a lot more Michigan than we planned. Laura's highly reliable Volvo blew out a suspension part, and it took us three days to get it fixed in Ann Arbor! We also learned about how to get around Ann Arbor by bus (pretty easy), how politically active the place is (extremely), and how good the restaurants are (excellent). Michigan was nicer than Illinois, but both were highly large and rather geographically distant. Later on in the year the Supreme Court ruled that the University would have to modify its admissions scoring, but Katherine was offered admission under the old rules as I guess an extra-qualified non-minority person!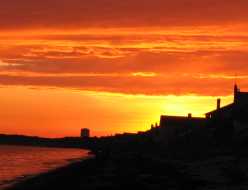 We continued on to Rochester for a second visit: it still looked pretty nice, smaller, and a lot closer. After getting accepted to Rochester, Katherine, Laura and I went back for a third visit in April. That pretty much shot the two school vacations, but helped Katherine to make a good decision. She's enjoying college a lot, studying and doing some extra-curricular juggling and martial arts. Above are shown some of her friends from the juggling club putting on a show. Maybe next year she'll be in the picture.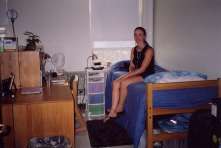 One thing that impressed us about Rochester was the size of the dorm rooms. No triple-decker bunk beds here, as you can see from the picture of Katherine's half of her room shortly after unpacking her stuff in August. The college student of 2003 needs a bed and a place to put their laptop computer and stereo system, and Rochester certainly has it, and more.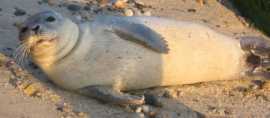 We did take our usual vacation at Cape Cod. Where else can you hang around with family, see the fantastic sunsets over Provincetown, see the local wildlife, and the occasional storm rolling in across the water? See the pictures scattered around summarizing this vacation!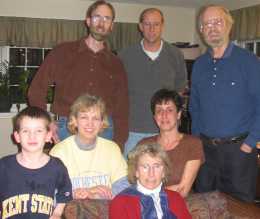 The biggest event of the fall was Tim's mother's illness. We knew she had no energy at all, so finding out that she was anemic wasn't a big surprise. However, it proved to be hard to figure out why she was anemic, and about that time there was a hint of infection. So antibiotics were tried but she was really going downhill more than uphill at that point. She never was really big enough to lose 20 pounds and not miss it. Finally they figured out that her heart had suffered from the infection, so it wasn't doing the job!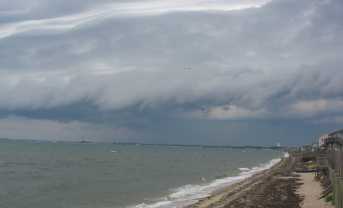 It took about a month in two hospitals for her to fight the infection, recover just a little strength, and then get the surgeons at Mass General to give her another valve. If you haven't been getting any emails from her, now you know why! Anyway, she is back home working on building up her stamina, as shown in the picture with her grandson Michael, Laura, me, my brother Mark, his wife Anna, and of course Dad. She had the surgery Nov 28 and the picture was taken on Christmas.
Our son Matt is now 16 and a junior. He has been getting better grades as the college application process draws inexorably closer. He is doing a lot of computer programming, reading, and listening to music these days. [He's shown in the picture at right between his cousin Ian and me.]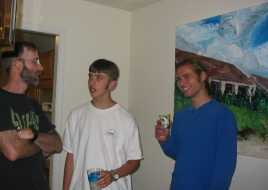 We had a few miscellaneous get-togethers such as the one at right, where cousin Ian showed a picture he painted for Laura's father Blaine. This impressed Laura quite a bit so she got him to paint us one as well. Take a look at our picture which is of Cape Cod Bay, and compare to the photo of the stormy clouds above. No, Ian wasn't working from that! Ian's picture is sort of an artist's conception of a fisheye lens, showing the same view of Provincetown to the right as the photo, but then going all the way around to Wellfleet at the left. [There's no way this jpg does justice to Ian's 18 square foot painting; you'll just have to visit if you want to get the real effect.]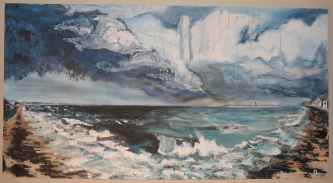 I am keeping busy at MIT Lincoln Laboratory, spending more time managing the young blood than doing actual work! Work-related travel was tough the first half of the year, but slowed down nicely the second half. I'm still a co-leader of the Men's group at church, a member of the choir, and helping Laura in the Sunday School. Our curriculum is a little over the head of these small kids sometimes, but they love to sing along with Laura's guitar so we have a good time.
Laura continues to work nominally 30 hours a week doing Q/A for GDAI. This year her 30 hours ranged from maybe as low as 8 up to 49, when the crunch hit! In addition to teaching pre-K and K Sunday school she has various other activities including the women's group at church, a book group in town, and a monthly prayer group.
So, all in all, we had a good year with a happy ending; we are hoping for a little less eventful 2004! Tim, Laura, Katherine, and Matt