Christmas 2002

For unto us a child is born

Dear Friends,

A belated Merry Christmas and Happy New Year from all of us. This page is a photographic annotation of the email (or regular post) that you may have received. [If you want to see a bigger version of the pictures, just click on them.] At first I thought there was not much to report about this year but reviewing it I have realized this has been a very full year.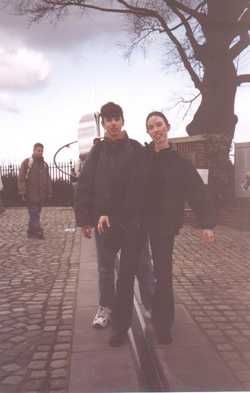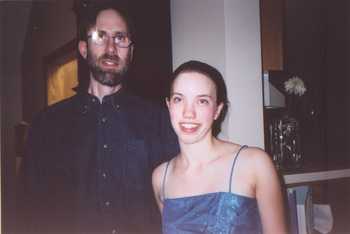 The biggest news of this year is that our daughter Katherine is in her last year of high school so that much time has gone into looking at colleges. We were not able to make any college visits during the school vacations so Tim and Katherine took a week long driving trip when the first available time came. They drove to Pennsylvania, Washington DC, then up to New York. Earlier in the summer Laura and Katherine did some day trips to college in Massachusetts, Rhode Island, Connecticut, and New Hampshire. Katherine has received two acceptances through early action and we are waiting to hear from the others in April. As Tim said, "Well, we KNOW she is going to college!" Katherine has been a good student but it was good to get those acceptances. It somehow makes the process less stressful. I guess now is the time I can brag about her. She is one of 6 National Merit Semi-finalists in her graduating class at her high school. You may wonder what it takes to be a finalist and what the difference is. (I know I did.) A semi-finalist is selected based on the PSAT test and also the state standing so that being named a semi-finalist is more difficult in Massachusetts than in some other states. In Massachusetts a small fraction of the top 1% are named semi-finalists. Then, if the student wishes, he or she may apply to become a finalist. This consists of paperwork and basically looks at the student's overall picture to ensure that the PSAT results were not a fluke. 90% of semi-finalists are named finalists. Katherine also continues to practice TaeKwonDo where she is a second-degree black belt.
Enough bragging about Katherine. Our son Matt is now 15 and in 10th grade.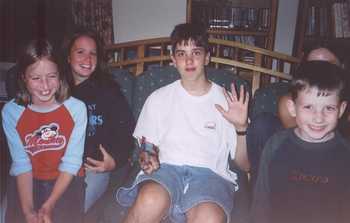 He is still very involved in computers and studies on his own at home. The high school offers quite a few classes in computers so he hopes to get in as many as possible. He has grown a great deal as you can see from the family photos. One of his dreams is to travel to Spokane to the headquarters of Cyan, the creators of the Myst and Riven games.
Tim is very busy these days working at MIT Lincoln Laboratory. He travels a few times a year for his work, in the past to Colorado Springs, but now he will be traveling more to Omaha. He is one of the gurus of Linux and has helped many in his group to be more efficient by using this operating system. Tim continues to snowboard. Tim's brother Mark kindly hosted part of the family for a weekend skiiing this past winter. (Mark said it was to thank Tim for giving him a car years ago. Of course, after Tim gave Mark his car our car failed and we had to get another used car!) We have a small ski slope only 20 minutes away so Tim goes there to work on his technique and meet with friends. This year he is also co-leading the men's group at our church. And, as usual, he is still diligently cutting and splitting all the wood for our wood stove so we can stay toasty!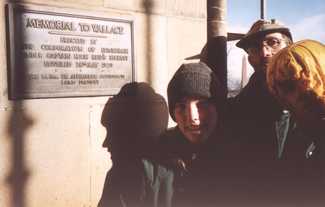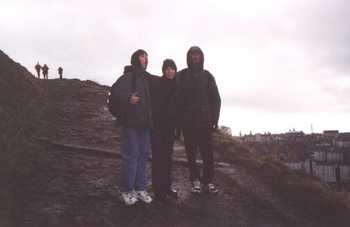 Laura (the author of the letter this year) continues to work 30 hours a week as a contract QA person at a small engineering branch of an international family-owned business GDAI. She is one of 2 women there, the rest being mostly men engineers. The work is interesting and she is thankful to have the outside interest and have it part-time and, thankfully once again, to have 10 weeks off in the summer. She is also teaching pre-k and k Sunday school for the first time in many years. Tim assists. Laura also is involved in the women's group at church, a book group in town, and a monthly prayer meeting with dear friends.
For travels this year we made it to England and Scotland in February for 10 days. Here we are at the Edinburgh castle checking out the plaque to William Wallace, perhaps a distant relation?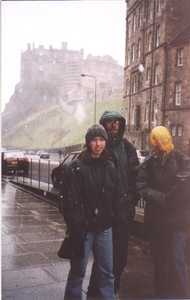 As you can imagine, February in Scotland is the wettist month of the year... One of the highlights was seeing friends we met thru ISI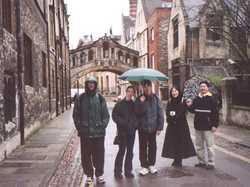 that are now studying at Oxford. They showed us all around town and we saw where part of the Harry Potter films were made.
In April we four went to Florida for the wedding reception for Laura's father, Blaine, who married a very nice widow he met in his Florida neighborhood. His new wife, named Ann, also has three grown children so now Laura has two step-brothers (one of whom she has yet to meet and the other who just married a lovely woman) and a new step-sister plus new nephews and nieces. Here is a photo of my father on his birthday surrounded by a new granddaughter from Paris, Katherine, Ann, my sister Beth, me, and a new grandson also from Paris.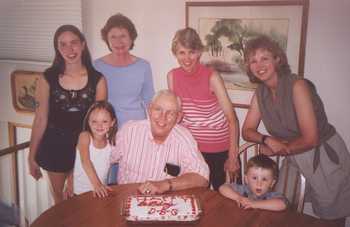 Ann's family is very nice and it will be fun to get to know them all. Certainly Blaine's life is even more full!
In July we went as usual to Cape Cod for 2 weeks with Tim's family. Then Katherine went to a Spanish immersion camp for 2 weeks in Minnesota and after that she and Tim found the time to do the college trip. The travel was rounded out a few weeks ago when Laura went to Florida to see her father and Ann and an aunt and uncle, then up to Georgia to see her sister Sally and her family in their new home.
Laura's sister Beth, husband Kevin, and sons Eric and Ian are nearby in Bridgewater, Mass, about an hour away, so we see them from time to time. The picture shows Eric and Ian on the sofa with Katherine and Matt.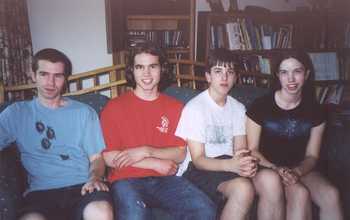 Have a great year! Tim, Laura, Katherine, and Matt